The Romania Without Orphans Alliance (RWO), at the PR Award Gala, on Wednesday, November 25, 2020, received the Gold Award distinction for the best lobby and advocacy campaign of the year.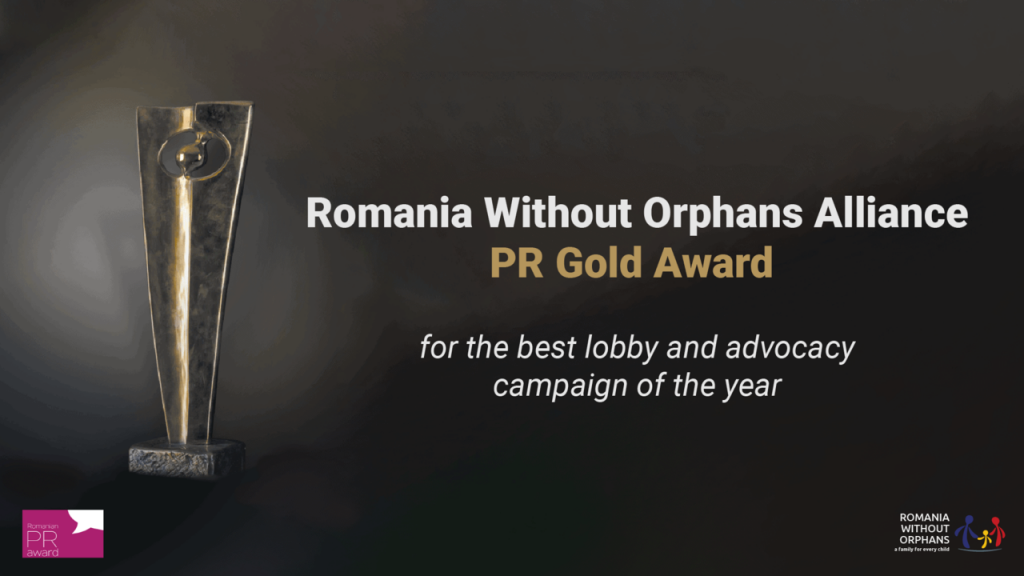 In awarding the distinction, the competition's jury analyzed how RWO conducted the preliminary research, planned its actions, established its implementation strategies and tools as well as the capacity to evaluate the objectives. A significant point value was given to the creativity of the approach and the identification of new communication techniques.
"Our actions aimed to change the intervention philosophy in the field of child protection from a philosophy that protects the system into one focused on the best interests of the child with a priority for family-based care, not care in institutions. We used a mix of tools, from working groups at parliamentary and governmental level, to court actions and events that brought politicians into direct contact with those who needed this change," said Liviu Mihaileanu, RWO President and coordinator of lobbying actions for the Alliance.
Over 370 projects from 32 categories were analyzed by an international jury bringing together over 80 top international specialists in communication and public relations, as well as agency directors from the USA, Great Britain, Germany, Italy, Spain, Austria, Czech Republic, the Netherlands, Greece, Russia and Romania.
PR Award is the most important event for recognizing excellence in the field of strategic communication and public relations in Romania. The competition has been organized for 18 years by the Forum for International Communications, an organization that promotes excellence and compliance with the ethical and performance standards of the public relations profession.
About Alliance Romania Without Orphans (RWO)
This article was originally published here.
World Without Orphans is a member of the World Evangelical Alliance. To learn more visit: World Without Orphans