Modern secular culture is on a march to evangelize Christians and Sunday School, church services and youth groups are no longer enough to inoculate Christian children from its new gospel without God, warns founding pastor of Redeemer Presbyterian Church in New York City, Tim Keller.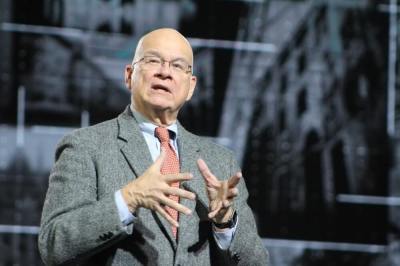 In a Q Session discussion with moderator and Q Ideas founder Gabe Lyons Wednesday, Keller warned that secular culture in America is now at a point where "the only sin is to tell people that they sin," and traditional Protestant catechism needs to better prepare Christian children to thrive in a world where they are constantly bombarded with the new secular gospel on social media.
"Roughly speaking, every other culture always taught that the truth is something outside me, it could be family, God, dying for my country; and to be a person of honor and worth, authenticity, you had to find that truth and align your feelings with the truth. Now the understanding is, truth is inside you. You go inside to find the great depths and then you come out and you tell everybody else that you have to now accommodate me," said Keller.
"What that means is we're the first culture not only that does not believe there's a truth out here, it's all subjective. Also, it's the first culture that doesn't just think Christians are wrong but they are the problem," he explained.
Modern secular culture, said Keller, is now at the point where people believe that they need to be saved from the idea that they need salvation from God. And for that to happen and to realize their brand of salvation, Christians must be evangelized.
To read full article click here: In culture pushing Gospel without God, Sunday School isn't enough for Christian kids, Tim Keller says – The Christian Post
(c) The Christian Post, used with permission.