35 Christian leaders and activists from across Europe, from Finland to Armenia, gathered in June for World without Orphans (WWO) Europe's 3rd 'Hidden' workshop. Focused on the currently most relevant topic of refugees and the danger faced by them of being trafficked, 'Hidden in Plain Sight' was a partnership event with the Refugee Highway Partnership (RHP) and European Freedom Network (EFN). Soon after the war in Ukraine started, when especially women and children were fleeing, it became clear, that traffickers were using, or abusing, the vulnerable situation of those refugees for their own gain.
The first 'Hidden' event with the title 'Hidden Children' looked at the Bible first, discovering the many children that are hidden and then rescued and blessed by God, before then looking at the hidden children who have suffered, lost caregivers and remain in the COVID pandemic. The second event, 'Hidden Homes, Hidden Harms' was an eye-opener for the participants, exploring the prevalence of domestic violence and its impact on children.
Hidden in Plain Sight's first speaker, Whitney Gerdes from RHP Europe, talked to the participants about the immense challenge of the present refugee crisis, which is the biggest since WWII, with now over 100 million people displaced, either in their own country or abroad. Of this number, about 40% are children and youth under the age of 18. But it became clear, that even though, there are seemingly many refugees in Europe now, the highest number of refugees (86%) are still in low-income countries especially in Asia and Africa.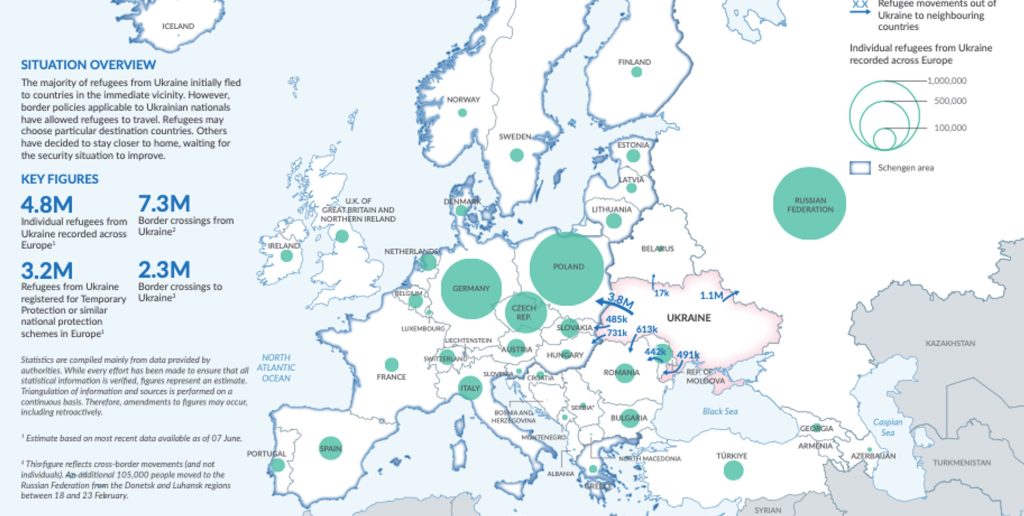 Whitney also showed the participants that there are many refugees and displaced people in the Bible and that God is the God who sees. He is working with and through his people in exile. Refugees, no matter if the reason to flee is war or a natural disaster, experience trauma and need to deal with it. Whitney explained this, but also said clearly, that a refugee child is much more than their story of displacement and has much to bring and many gifts and abilities. Churches are a good place to reach out to refugees, doing so with hope and receiving all refugees, affirming their dignity and value and the contribution they can bring.
Helping in a time of crisis has several phases, from the first emergency response, where people need to be provided with the most essential things like food and shelter to the last phase of long-term involvement, where it is all about (re)integration of the displaced persons. In all these challenges, as Christians, we will continue to have HOPE.
After Whitney Gerdes helped the participants to understand more about the present refugee situation, the second speaker, Leanne Rhodes from the European Freedom Network (EFN) took over and shared her expertise on the issue of Human Trafficking. EFN is a faith-based network of over 260 anti-trafficking organisations with close to 500 actors in 44 countries and is working with its partners along the borders of the countries bordering Ukraine.
One of the most shocking facts, that Leanne shared was, that traffickers adapted their strategies when the war broke out, to go to the borders and lure vulnerable refugee women into the trap of trafficking. She then shared what trafficking was all about how and where it happened. Countries in Eastern Europe already had big numbers of women trafficked for sexual purposes before the war. The biggest danger for women is to be trafficked either for prostitution, online sexual exploitation, or domestic services. Unaccompanied children, especially if they are from an orphanage, are also in danger of sexual exploitation but also to be exploited as organ donors.
For people who want to help refugees and protect them from being trafficked, there are several indicators that could point towards a case of trafficking. For example, if a person is unwilling to talk about his situation, shows fear or does not have his documents because they are with another person. Often traffickers too pose as helpers or offer transportation from the border to a different location. It is important that people who want to help refugees are trained and know what to look for to detect and report cases of suspected trafficking. The three steps for that are: See it. Report it. Note it. It is also important to develop partnerships with anti-trafficking organizations and the local police before something happens.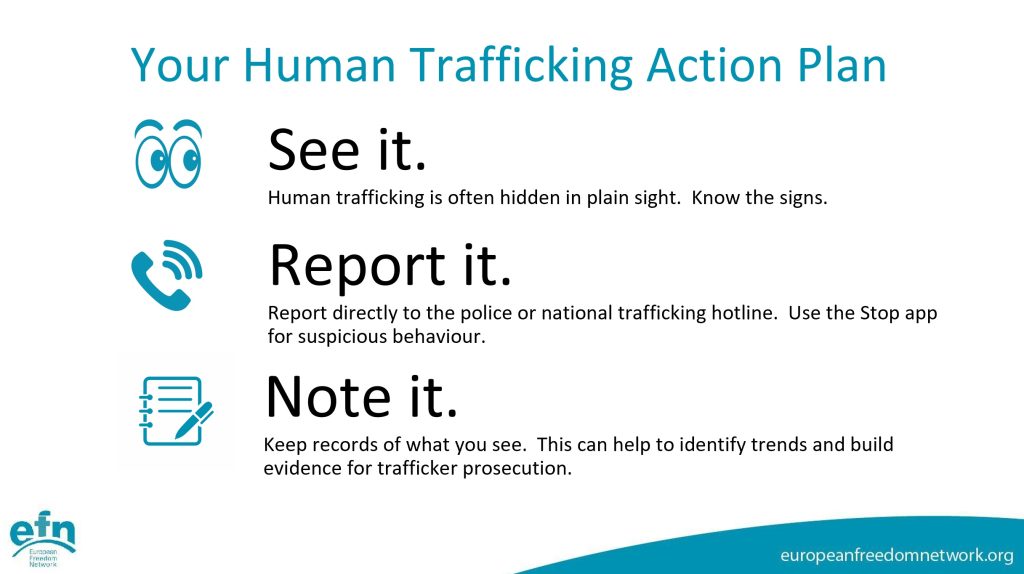 Both speakers had the participants share in breakout rooms and talk about their own experiences working with the refugees in their respective countries. While sharing in the group, one of the participants said, she had been made aware of a situation, where several children they had come in contact with, were unaccompanied by a parent or relative, and she realized, that they needed special protection from traffickers.
Many tools were presented, to continue learning about the issues presented and to be better equipped in helping refugees in the countries they were working with. One of the tools was a manual helping people where and how to refer suspected trafficking, and another on an App 'The Stop App', where suspicious actions can be reported.
Manual: National Referal Mechanisms https://www.osce.org/odihr/510551
Anti-trafficking Hotline of European Countries: www.europeanfreedomnetwork.org/hotline
The Stop App: can be downloaded on iOS and Android
To access a recording of this event, or to receive information of future events, contact WWO Europe on [email protected].
Written by Barbara Ruegger / World Without Orphans